[English version: see below]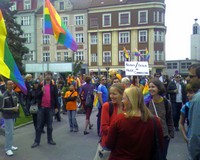 J'ai participé à la Queer Parade de Tábor, grâce à une amie française qui habite cette petite ville de République Tchèque.  Le mouvement queer – genderqueer pour être plus précis – m'intéresse depuis longtemps. Il s'agit d'échapper au schéma bipolaire des genres (masculins et féminins) : « je suis un mec, un vrai, et je sors avec une meuf, une vraie » ou inversement… Le mouvement genderqueer, c'est la liberté de vivre sans les limites du genre, sans faire reposer son identité sur un schéma réducteur. Ce n'est donc pas un synonyme d'homosexualité.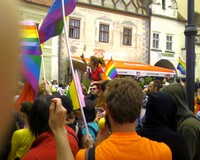 Beaucoup de genderqueers sont bisexuels. Certains sont hétéro, comme moi actuellement. Certains homosexuels ne sont pas queers, parce qu'ils tiennent beaucoup au schéma bipolaire des genres. Les genderqueers, c'est le Q de LGBTQI (Lesbiens, Gays, Bis, Trans, Queers, Intersexes). Il y avait eu une rencontre à Paris il y a un an avec des gens du mouvement queer de Berlin, on avait failli organiser un café-queer à Paris, ça ne s'est pas fait, mais je considère que ce n'est que partie remise…
Bref, me voila donc parti pour un aller-retour en autostop France-Tchéquie sur un long week-end !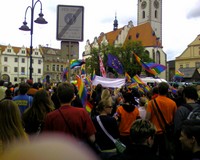 Première surprise, je m'attends à une petite marche paisible avec quelques dizaines de personnes parce que Tábor est vraiment un petit bled. En fait, l'événement est de grande ampleur : plus de 500 manifestants, plusieurs dizaines d'organisateurs, des dizaines de journalistes, plus d'une centaine de policiers, un hélicoptère qui survole la marche… La raison est simple : en République Tchèque, les marches LGBTQI ne sont pas à Prague mais dans d'autres villes, et cette année, c'était Tábor.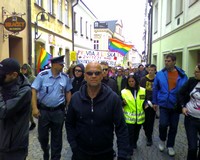 Deuxième surprise, les questions de sécurité : des petits groupes d'homophobes sont contenus par de nombreux policiers et il y a un service de sécurité interne à la marche : des gens habillés en noir, avec capuche et lunettes de soleil, souvent des anarchistes détestant les flics, mais contraints de marcher avec eux…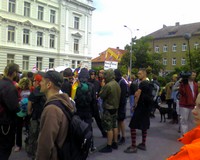 J'apprends aussi que l'année dernière, la marche queer tchèque a du être écourtée à cause des menaces des groupes homophobes (ils ont lancé des œufs sur la foule, le service de sécurité ne contrôlait plus bien la situation…). Personnellement, je suis bien rassuré par la présence des flics et plutôt inquiété par la présence de notre propre milice…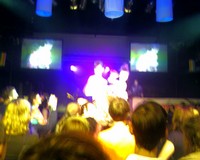 Le reste de la journée, c'est des concerts, des expositions, des petits ateliers, le tout dans un grand bâtiment bien adapté. L'ambiance m'enthousiasme : les gens sont ouverts, curieux, contents d'être là. Je ne ressens pas la gêne que je ressens dans certaines rencontres gays/lesbiennes : être seulement toléré puisque je ne suis seulement qu'hétérosexuel… Je rencontre même une polyamoureuse avec qui je partage quelques moments tendres 🙂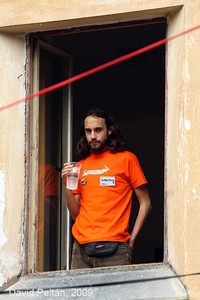 Je file des coups de mains pour l'organisation (d'où mon T-shirt orange d'organisateur) et je participe à un atelier sur la conscience du corps animé par deux flamandes : relaxation, danse et massage. Je vois aussi l'atelier/exposition sur la création de nos propres sex-toys… J'apprécie l'importance donnée dans le programme aux ateliers de « bien-être » ; parce que c'est agréable, mais aussi par efficacité militante : changer les mentalités par du positif (se rassembler pour vivre des moments intenses, pour partager des passions) me semble plus intéressant que d'aller vers une exacerbation des rapports de forces (se rassembler pour combattre un ennemi commun). L'atelier sur la conscience du corps était un régal et ça m'a donné envie d'en animer pendant les rencontres polyamour…
Merci à tous ceux qui ont contribué à cette Queer Parade, et merci à Solène pour l'invitation 🙂
---
Queer Parade Tábor (English version)
[version française : haut de la page]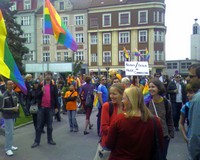 I participated to the Queer Parade in Tábor, thanks to a French friend who lives in this little Czech town. I've been interested in the queer movement – genderqueer to be more precise – for a long time. It is about escaping from traditional gender bipolarity (male and female): "I'm a real man and I'm attracted to real female", or the other way round. The genderqueer movement brings the freedom to live without the gender limits, without basing our identity on a predefined pattern. Queer is not equivalent to homosexual.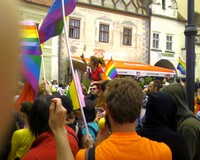 Many genderqueers are bisexuals. Some of them are heterosexuals, like me at the moment. Some homosexuals are not queers, because they find it important to stick to the gender dual model. Genderqueers is the Q of LGBTQI (Lesbiens, Gays, Bisexuals, Trans, Queers, Intersexes). One year ago, there were a meeting in Paris with two Queer Berlin people, we nearly organized a queer-café in Paris and I'm sure we will do it in the future…
So, here I am, hitch-hiking on my way to Czech Republic for a long week-end… and then hitch-hiking back!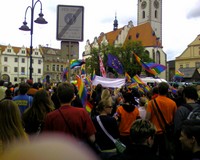 First surprise, I expect a little parade with 50 people because Tábor is a very small town. But the event is a major one: more than 500 people walking, 50 journalists, more than 100 policemen, 1 helicopter… The reason is simple: LGBTQI parades are never in Prague but in some other cities of Czech Republic, and this year was Tábor.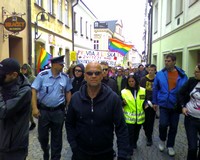 Second surprise, security issues: some little groups of homophobic people are kept out of the parade by many policemen and there is an internal security service amongst the parade: some black-dressed people with hood and sun glasses, often anarchists who do not like policemen, but forced to walk close to them…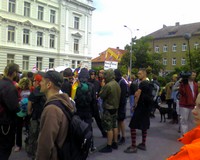 I also learn that last year, the Czech LGBTQI Parade was shorten because the homophobics people were very threatening (they threw eggs on people, the internal security service could not handle the situation anymore…). As far as I'm concerned, I'm reassured by the presence of policemen and a bit worried by the presence of our own militia.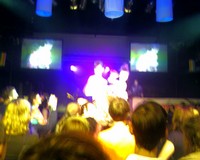 During the rest of the day, there are concerts, expositions, workshops, in a very big and casual building. I like a lot the atmosphere: people are openminded, curious and happy to be here. I do not feel the bad sensation I have in some gays/lesbians meetings: being only tolerated as an "only" heterosexual person… I even meet a polyamourous with who I have some nice and tender time 🙂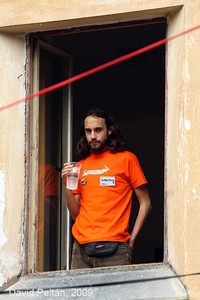 I help the organization team with little tasks (that's why I wear the orange T-shirt) and I participate to a workshop on body consciousness animated by two girls from Flanders: relaxation, danse, massage. I also have a look at a workshop/exposition about creating our own sextoys… I like very much the importance given to the "well being" workshop in the program; because it is pleasant, but also because of the militant efficiency: changing mentalities by positive actions (gathering to spend intensive moments, to share passions) seems to me more interesting than increasing the tension between groups of people (gathering to fight against a common enemy). The workshop on body consciousness was a delight and it gave me the will to animate a similar one during the polyamory meetings in Paris…
Thank you to all the people who contributed to this Queer Parade, and many thanks to Solène for inviting me 🙂